A few years back, I identify as being "culinary challenged". The only thing I can cook are Maggi Mee, possibly some simple fried egg and occasionally successful stir fry dishes. Over the years, I learned that I'm not quite kitchen savvy enough to "wing" it with ingredients and I REALLY need to follow recipes to a "T".
Fast forward a few more years, life happened, aging happened, baby happened, and diet happened. So I started to learn to cook at home more. I wouldn't say I'm good at cooking, but after being better at finding recipes online, with multiple trial and errors – I started posting about #WinnieCooks #KitchenExperiments
Philips All-In-One Pressure Cooker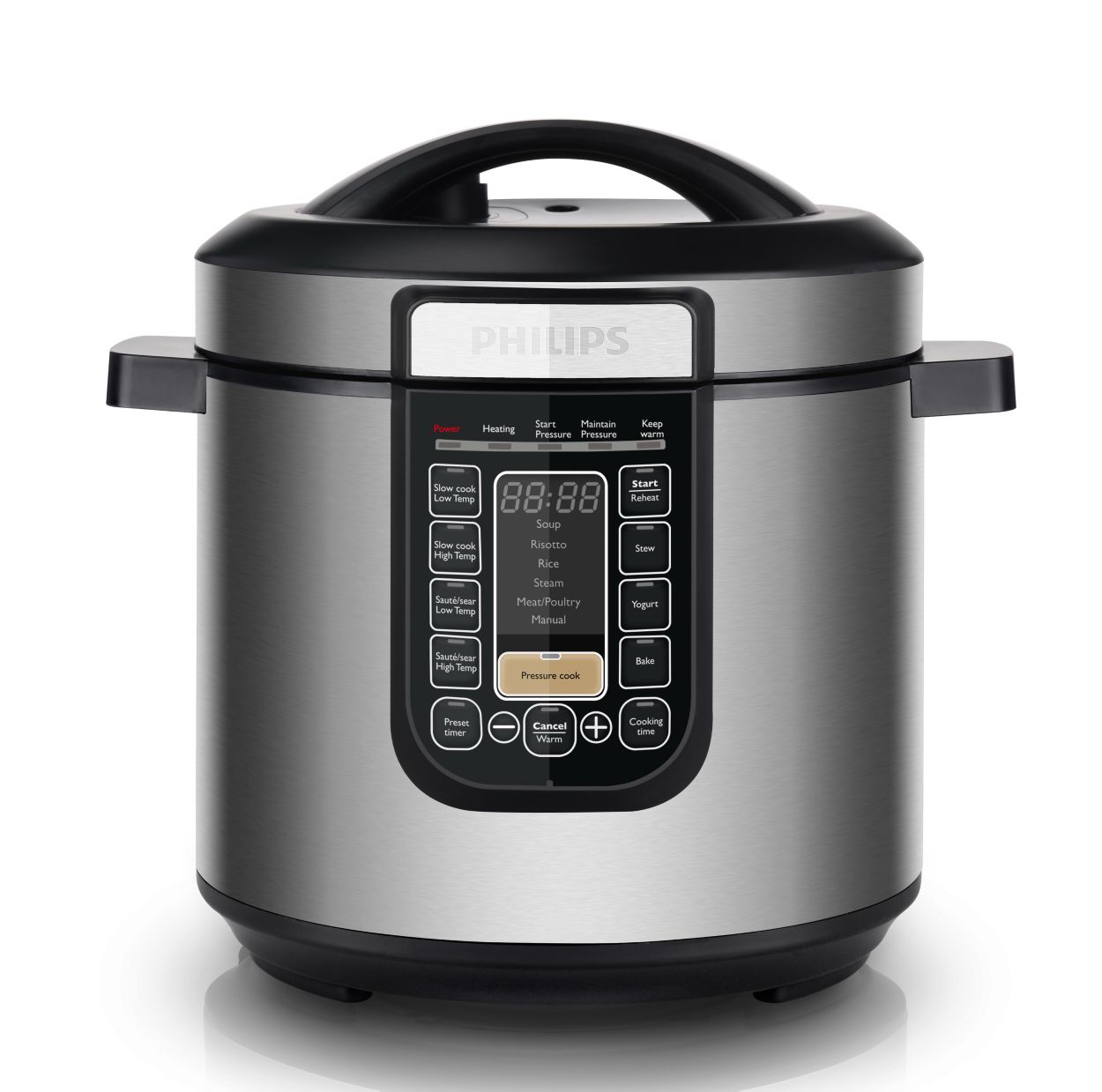 Sometime back, Hubby read about the Philips All-in-One Pressure Cooker and made an impulsive online purchase. For weeks, it sat on our kitchen counter untouched. Then it was kept in the cabinets as we were clearing counter space. It went untouched for a few more months. 🙄
One day, I spotted a few Facebook posts on friends cooking with it, and I got tempted looking at all these pictures of delicious food, made easy with the Philips AIO (All-In-One) Cooker.
One Pot Chorizo and Seafood Paella
I love seafood paellas. One of the must-order dishes every time I have tapas, just to finish off the meal. So, when I saw a friend post his attempt with the Philips AIO Cooker, I had to give it a try.
Once again, this is another kitchen experiment, so I learn from this attempt, and know what to tweak for the next try. You can try the same, to tweak the taste as you like.
So, here's my recipe for my one-pot Philips All-in-One Chorizo & Seafood Paella
Ingredients
To Saute:-

Olive Oil
Mince Garlic
Diced Onions
Diced Peppers

Meats / Protein:-

Chorizo (or sausages, if you like)
Mixed Seafood (Prawns, Scallops, Squid, Fish, etc)

Spices:-

Smoked Paprika
Chilli Flakes
Pinch of saffron
Salt & Pepper to taste

Stock to cook Rice

Rice (Short grained Spanish rice, if you can find. Else normal rice will do)
Chicken Stock (1.5 cups stock to 1 cup of rice ratio)
White Wine
Tomato Sauce / Puree / Diced Tomatoes
Similar to when I asked for a recipe from my friend, there were no exact measurements. We estimated the quantity and measurement of everything, hence #KitchenExperiments
Recipe
This is kind of a One-Pan cooking solution. So, you really can't mess it up much.
Brown the vege – Set Cooker to Saute (High) mode. Add oil, mince garlic, diced onions and peppers.
Cook the meat – Once browned, add chorizo and spices (smoked paprika, chilli flakes, saffron, salt and pepper) to taste. Should've added the white wine here, to give the saute a bit of tang.
Add the rice – Add the washed rice, chicken stock (1 cup rice : 1.5 cups stock), tomato puree
Add seafood – You wanna add the seafood last, because they cook really fast.
Adjust seasoning where needed.
Pressure cook! – Put on the lid, set the Philips cooker to "Pressure Cook" on default "Rice" setting. This will cook it for 14 minutes.
Let it sit for 6-10 minutes, as you would when you prepare rice.
Stir and serve. Enjoy!
Truly, there's no exact measurements to this, and I tweak along the way. Depending on your preferred taste and spices, you can adjust accordingly. From my first attempt in this video, I took notes on how I would adjust the taste next time I cook this again.
I learned I didn't need it too tomato-ey, so I'd used less tomato puree. I wanted it spicier, so I would add A LOT more chilli flakes, and perhaps add some sriracha / Tabasco sauce next time.
So, you can tweak this to your taste, too. And share with me your attempt, in comments below, or on my Instagram post. Happy experimenting!